David Rogerson Mellor – Is an English designer, manufacturer, craftsman, and retailer. Also silversmith and industrial designer, Born in Ecclesall.
David Rogerson Mellor was born on 5 October 1930 at Ecclesall, Sheffield, West Riding of Yorkshire, England.
He is the son of Colin Mellor, a toolmaker at the Sheffield Twist Drill Company, and his wife, Ivy, née Rogerson.
David Rogerson Mellor attended the junior art department of Sheffield College of Art; later, at the college itself, he learned practical and creative skills.
Read Also: Simon Doonan age: A Creative Ambassador in New York
David Rogerson Mellor Early Life and Academic Pursuit
Mellor was born in Ecclesall, Sheffield, where his father was a toolmaker for the Sheffield Twist Drill Company.
From the age of eleven, Mellor attended the Junior Art Department of Sheffield College of Art, receiving intensive training in craft skills. He made his first piece of metalwork, a sweet dish at this early age.
In1950, Mellor Moved to the Royal College of Art to study silversmithing where he took an interest in design as well.
What is David Rogerson Mellor Known for?
Known for Design for bus shelters, cutlery, and the traffic lights system
Mellor's first cutlery, "Pride", designed while he was still a student, is still in production. Mellor also studied at the British School in Rome.
In 1954, he returned to Sheffield. For six years he worked in a small workshop in Eyre Street as a silversmith, as an industrial designer, and a design consultant with the local cutlery firm of Walker and Hall.
In 1957, Mellor Pride cutlery, made by Walker and Hall, won one of the first Design Centre Awards.
What did David Mellor invent?
He's known for Design for bus shelters, cutlery, and the traffic lights system. He invented Traffic Light System
Mellor kept enlarging the scope of his work. In 1960, Mellor had a modern studio workshop built at 1 Park Lane in Sheffield's western suburbs.
There he designed much of his most important silver, including Embassy, a complete set of sterling silver tableware for use in British embassies.
There also he did some of his best-known work in industrial design: bus shelters, public benches, a square letterbox for the Post Office, and the traffic lights still in use in the U.K.
Check Also: Simon Doonan age: A Creative Ambassador in New York
Who did David Mellor Marry?
He married Fiona Caroline MacCarthy in 1966.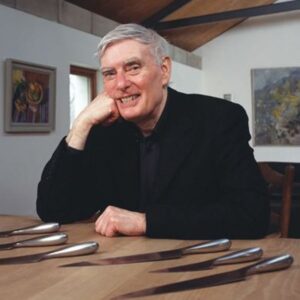 David Rogerson Mellor Career and Achievements
In 1969, Mellor opened a shop in London, and in 1973, He bought Broom Hall near Park Lane, Sheffield, and turned it into a home and a cutlery factory.
Each cutlery worker was responsible for his pieces from start to finish, making the work more varied and interesting.
Early Broom Hall designs were made in two parts: bowl, fork, and blade in stainless steel, handles in wood or resin, a technique used in Scandinavia but not in Sheffield.
In 1980, he opened new shops in Manchester and Covent Garden, he was received an award of an OBE in 1981.
He built a new factory in the north (which opened at Hathersage in 1990) and a retail headquarters in London (but this did not succeed commercially and was abandoned).
What is Mellor's Occupation?
Designer
In 2000, Mellor was diagnosed with vascular dementia. His son Corin continued the work at Hathersage.
David Rogerson Mellor was regarded as one of the best-known designers in Britain. He specialized in metalwork, especially cutlery.
He also produced many other designs, including for bus shelters and the traffic light system in use across the United Kingdom, British Crown Dependencies, and British overseas territories.
Read Likewise: Ryan Adams biography: A Singer, Songwriter, Record Producer, and Poet
Mellor as Silversmithing
Returning to Sheffield, Mellor set up a silversmithing workshop studio making one-off pieces of specially commissioned silverware.
His work included a collection of modern silver tableware commissioned by the government for British embassies in a drive to give Britain a more forward-looking image.
Alongside silversmithing, Mellor was stimulated by the relatively new design potential of stainless steel.
His "Symbol" cutlery, manufactured from 1963 at Walker & Hall's purpose-built modern factory at Bolsover in Derbyshire, was the first high-quality stainless steel cutlery to be produced in quantity in the UK.
Mellor was subsequently commissioned by the government to redesign standard-issue cutlery for canteens, hospitals, prisons, and the railways, reducing the traditional 11-piece place set to five pieces and thereby reducing costs.
What did David Mellor design?
Mellor's design is still in use. He developed a controversial new square post box and designed minimalist stainless steel cutlery produced in huge quantities for government canteens and NHS hospitals.
The traffic light system Mellor designed for the United Kingdom, Crown Dependencies Isle of Man, The Channel Islands, and British overseas territories, used across the nations since 1965.
He worked for the Midlands engineering firm Abacus Municipal on the design of street lighting, bus shelters, public seating, and litter bins.
Around 140,000 of his bus shelters have been installed since they were first produced in 1959.
And In 1965 he was commissioned by the Department of the Environment to redesign the national traffic light system as part of an overhaul of traffic signs. Mellor's redesigned traffic lights are still in use.
Where is David Mellor cutlery made?
David Mellor cutlery is manufactured in a purpose-designed modern factory set discreetly in a rural area of outstanding natural beauty in the Peak District National Park.
In 1973 Mellor made the decision to begin manufacturing his own cutlery designs. To house his factory he renovated a large historic mansion, Broom Hall, in central Sheffield.
The building was then derelict. The machines were moved into the extensive Georgian wing. The conversion of the building received a European Architectural Heritage Award.
As well as introducing new concepts in cutlery he rethought the traditional methods of production.
Workers in the Sheffield cutlery industry had up to then specialized in a single operation, but he introduced a new system whereby his cutlery makers rotate from task to task, increasing job satisfaction through a sense of involvement in the project.
Who designed British traffic lights?
David Mellor was born in Sheffield, the city of steel and the center of the cutlery industry. He was best known for his cutlery designs, but in 1965 ventured into the realm of traffic control. An estimated 25,000 sets of his traffic lights remain in use today.
In 1990, Mellor finally realized a long-held ambition by commissioning a new purpose-built cutlery factory designed by Michael Hopkins. This factory, known as the Round Building, was built on the circular foundations of the redundant village gas works at Hathersage in the Peak District National Park, 12 miles from Sheffield.
Who was David Mellor influenced by?
At the College, Mellor learned much from Robert Gooden, Professor of Silversmithing, while also broadening his experience through travel.
In 1952, a scholarship took him to Sweden and Denmark, where he admired the Scandinavian assumption that a modern age requires a modern look.
Read still: Kari Lake net worth: Politician and Former Television News Journalist
Mellor Communal Effort  and Honors
Mellor was the youngest Royal Designer for Industry, elected in 1962 at the age of 32. In the early 1980s, he chaired the wide-ranging Design Council Committee of Inquiry into standards of design in Consumer Goods in Britain.
He has been Chairman of the Crafts Council and a trustee of the Victoria & Albert Museum.
Mellor was awarded honorary doctorates from the University of Sheffield, De Montfort University, Sheffield Hallam University, Loughborough University, and the Royal College of Art. In 1981 he was appointed OBE and CBE in 2001.
Mellor retired from designing in 2005 at the age of 74. He was married to Fiona MacCarthy, a biographer, and cultural historian.
They have two children, Corin (born 1966), a product and interior designer, who is Creative Director of David Mellor Design; and Clare, a graphic designer with her own London practice.
When did David Mellor die?
Mellor died on 7 May 2009 at the age of 78. And His wife died in 2020.
Read Also: Desiree Fluellen: An American journalist | News Anchor and Reporter
Is Viners cutlery made in the UK?
Viners has a long and illustrious history as a family of silversmiths in the UK since the late 19th century.
Establishing their first manufacturing business in 1908 in Sheffield, specializing in plated holloware, they were one of the first businesses to introduce new cutting edge production techniques.
Read More: 
Susan B Anthony bio: A Social Reformer and Women's Rights Activist
Carmen Blackwell bio: An America's rising television newscaster
Paul Baloche net worth: An American gospel music Artist
Elizabeth Cady Stanton bio| abolitionist, | human rights activist
Penny Richards: Historical fiction writer
Biography of Naomi Anderson: the Women's Rights Advocate
Alice Stone Blackwell biography: America Human Rights Activist
David Williams bio: An English comedian and writer