Sir Michael Hopkins – is a pioneer in the field of material exploration, is a retired English architect with more than a few notable feathers in his cap.
In the late 1970s, Hopkins set up a firm with his wife, Patricia Hopkins, that largely focused on the exploitation of material usage.
Hopkins was born on 7 May 1935 in Poole, Dorset. He was educated at Sherborne School and trained at the Architectural Association.
He worked for Frederick Gibberd before entering into a partnership with Norman Foster, where he was the project architect of the Willis Faber headquarters in Ipswich.
Hopkins' works flawlessly establish connections between the structures and their surroundings without a single compromise on the underlying purpose of the facility. Sustainability remains to be a continual feature that runs deep in the veins of every Hopkins design.
Read Also: David Rogerson Mellor: Designer, Manufacturer, and Craftsman
Sir Michael Hopkins Net Worth
The combined cash at bank value for all businesses where MICHAEL holds a current appointment equals £20.3k, a combined total current assets value of £20.3k with a total current liabilities of £188.3k and a total current net worth of £1.6m. Roles associated with Sir Michael John Hopkins within the recorded businesses include: Director, Llp Designated Member
With Norman Foster, Richard Rogers, Terry Farrell, and Nicholas Grimshaw, Hopkins was one of the leading figures in the introduction of high-tech architecture into Britain.
In 1976 Hopkins set up what became Hopkins Architects in partnership with his wife, Patricia, who ran her own practice.
One of their first buildings was their own house in Hampstead, a lightweight steel structure with glass façades.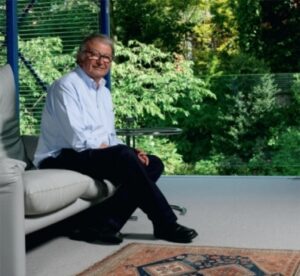 Read Likewise: Jonathan Adler bio: An American potter, interior decorator, and author
Michael John Hopkins Firm
The firm challenged conventional architectural wisdom by demonstrating that lightweight steel and glass structures could be energy efficient and pioneered the use in Britain of permanent lightweight fabric structures, of which the Mound Stand at Lord's Cricket Ground is a notable example.
From the mid-1980s the firm began to explore what Hopkins called the "updating of the traditional materials", adding to the expressive potential of traditional crafts like masonry and carpentry by combining them with contemporary engineering.
The practice became recognized for its combination of ultra-modern techniques with traditional architecture, broadening its palette of materials and forms.
Hopkins J. Achievement
Together Hopkins and his wife received the Royal Institute of British Architects Royal Gold Medal, awarded in 1994.
The citation describes the Hopkins' work as "not only a matter of exploiting technology to build beautifully, nor simply of accommodating difficult and changing tasks in the most elegant way, but above all of capturing in stone and transmitting in bronze the finest aspirations of our age", praising their contribution to the debate about the delicate relationship between modernity and tradition and adding.
For Hopkins, progress is no longer a break with the past but rather an act of continuity where he deftly and intelligently integrates traditional elements such as stone and wood, with advanced and environmentally responsible technology.
Michael Hopkins was elected to the Royal Academy in 1992, was appointed a CBE, and knighted for services to architecture.
Read Still: Simon Doonan age: A Creative Ambassador in New York
Hopkins Architectural works
The Olympic Velodrome Centre is one of the most popular examples of the efficiency and capability displayed by Hopkins' firm.
Drawing strong inspiration from the sport itself, the roof reflects the geometry of a cycling track while the entire structure stands with being just as lightweight and efficient as a cycle.
The structure itself is steel-framed with timber cladding. Conforming to the atmosphere of the Olympic Park, Hopkins managed to keep the design as open and connected with its surroundings as possible. This helped ensure a massive reduction in the consumption of artificial light and ventilation.
Sir Hopkins introduces tensile roofing for Stadium stands. The legendary Lord's Cricket Ground houses the Mound Stand that was renovated and given a simplistic, yet attractive, appearance under the guidance of Michael Hopkins in 1987.
An additional steel superstructure was added above the existing mound, with fewer supporting elements to make it look lightweight and suspended.
The roof of the stand is practical enough to not disrupt views and yet, provide cover for various spaces such as raked seating, restaurants, etc.
The utilization of materials such as steel, glass, and polyester fabric has helped retain its clean look. Many other works of Sir Hopkins include but are not limited to the University of Nottingham: Jubilee Campus, Glyndebourne Opera House, WWF – The Living Planet Centre, Mound Stand (Lord's Cricket Ground), Schlumberger Cambridge Research Centre, etc.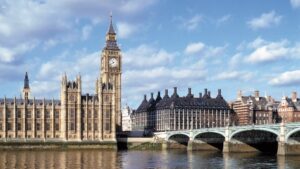 Read More: 
David John Mellor: British broadcaster, barrister, and former politician
Ryan Adams biography: A Singer, Songwriter, Record Producer, and Poet
Kari Lake net worth: Politician and Former Television News Journalist
Susan B Anthony bio: A Social Reformer and Women's Rights Activist
Desiree Fluellen: An American journalist | News Anchor and Reporter
lucy stone timeline: An Orator and Women Advocator
Paul Baloche net worth: An American gospel music Artist
Elizabeth Cady Stanton bio | abolitionist | human rights activist
Biography of Naomi Anderson: the Women's Rights Advocate