Bandana Nepal – Is a Nepali dancer.  She holds the Guinness World Record for "Longest dance marathon by an individual as of June 2020. She danced for 126 hours continuously.
Nepal started to dance from the age of 5 with her brother and she was trained in Nepal and India.
She has established the Bandana Nepal Foundation. And also appeared in a Nepali music video "Chautari" as the Besides dancer.
Where is Bandana Nepal from?
Nepal was born in 2001 and resides in Dhankuta District, Nepal. She is studying Business Management.
Bandana started to dance at the age of 5, making dancing part of her career and hobbies. She was instructed by her brother in Nepal and India.
In 2018, Nepal danced for 126 hours (5.25 days) continuously from Friday, 23 November until Wednesday, 28 November.
She danced in Big Foodland restaurant with Nepali music in the background and with her family members, media, and with the general public watching as she dance.
Read Also: Kafayat Oluwatoyin Shafau: A Fitness Coach and Dance Instructor
How Bandana started dancing
Bandana was drawn to dance at age 5, tender age, and her younger brother often gave her company and instruction.
Trained in both Nepal and India, Bandana reportedly danced for about 100 hours continuously to prepare for her record-breaking performance.
She is a Grade XII student, currently pursuing a Business Management course in Kathmandu.
Bandana Nepal Confirmation of Award
Nepal officially received the confirmation for her Guinness World Records submission on May 03, 2019.
Bandana Nepal, Guinness Record Holder for 'Longest Dancing Marathon by an Individual
Nepal has set a record by dancing continuously for 126 hours (5 days)
The 18-year-old rose to fame by dancing continuously for 5 days from November 23-28, 2018.
Thus beating the prior-existing record of Kerala dancer Kalamandalam Hemalatha who danced non-stop for 123 hours and 15 minutes in 2011.
Bandana took this as a serious mission to prove her talent and also take ahead the popularity of Nepali music and culture.
Recognizing Bandana's rare feat and contribution to the nation, Nepal Prime Minister PM Oli honored her at a function held at his official residence on May 04, 2019.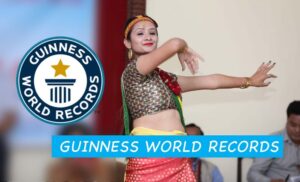 Bandana Nepal determination
Xinhua News Agency reported that "Despite continuously shaking her hips (Bandana Nepal) and wiggling her neck for 6 days without sleep, rest and proper food, the young girl managed to dance till the targeted hour by maintaining a smile on her face".
Bandana grooved continuously for 126 hours (5 days) and set a Guinness World Record as the 'Longest Dancing Marathon by an Individual', a feat previously held by an Indian, NDTV reported.
She has also performed in Bangalore, India. In 2020, she appeared also in Shirish Devkota's music video for the song "Chautari".
Nepal established the Bandana Nepal Foundation organization that "uplifts poor women in Nepal".
Read Still: Kari Lake net worth: Politician and Former Television News Journalist 
What is the longest dance record?
A Nepali teenager has broken the world record for dancing. The 18-year-old girl, Bandana, danced for 126 hours (over 5 days) non-stop to set a new record for the 'Longest Dancing Marathon by an Individual.
How long did dance marathons last?
Each year, students organize and host different types of dance marathon events in which participants stand on their feet for 12–46 hours straight.
Read More: 
Carmen Blackwell bio: An America's rising television newscaster
lucy stone timeline: An Orator and Women Advocator
David John Mellor: British broadcaster, barrister, and former politician
Ryan Adams biography: A Singer, Songwriter, Record Producer, and Poet
Desiree Fluellen: An American journalist | News Anchor and Reporter