Panam Percy Paul biography – Panam Percy Paul is a stage name of Bakulipanam Percy Paul Mokungah, is widely known by his stage name. A Nigerian gospel singer, songwriter, and multi-instrumentalist whose musical career Has spanned many years.
Apart from music,  Panam also engaged himself in writing. He has written a book titled "Bring Down the Glory", named after his album.
He also has a college called the "Panam College of Music Ministry" in Jos, Plateau state of Nigeria. His record label Panam Music World serves as an organization to assist the education of musicians.
What is the meaning of Panam and the tribe?
Panam is a tribal name from the tribe of Mbula in present-day Adamawa State. It is interpreted as God's gift.
He said "when I asked my father why he gave me the name, he told me I am a gift to him because I am the second child and a boy. So, he named me Panam"
Read Also: Paul Baloche net worth: An American gospel music Artist
Where is Panam Percy Paul from?
He is from Numan, also known as Nomweh, which is a town and a Local Government Area in Adamawa State, Nigeria. It is a port town that lies on the confluence of Benue River and Gongola River. The predominant ethnic group in the town is the Bwatiye people who have a reputation of being unconquered warriors in all their history.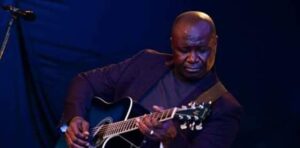 Panam Percy Paul Family and Early Life
Panam was born in 1958 to major Paul Harley, an officer in the Nigerian Army, and composer Paulina Paul Mokungah. A native of Numan, in Adamawa State, and lived in Jos for many years.
Panam Percy Paul spent his early life in various parts of Nigeria because his father was an officer (Major) in the Nigerian Army, and he was always on reassignment. His parents are members of the Lutheran Church.
Panam Percy Paul's mother was a composer. Whenever his father was transferred to a new place, they always like to attend church there. His mother do join the women's choir or women's fellowship of that church and would write Christian songs for them to sing.
His father liked music, especially the American "country-western" music, and he had a big collection of gramophone records made by singers such as Jim Reeves. He used to listen to these records and imagine that he was the singer.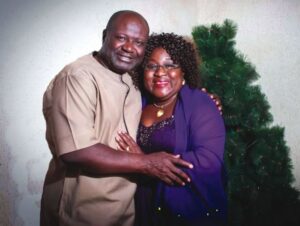 Panam Marital Life and  Music Career
Panam Percy Paul started his musical career at age twenty while he was still in school as an undergraduate at Kaduna Polytechnic.
He worked at Radio ELWA Christian Communications as a production supervisor and engineer.
Panam Paul married his wife, Tina, in 1981. Together, the couple had four children: Leah, Lisa, Harley, and Loraine in that order.
Moreover, she has three adopted children and they are Jemima Mbaya, Elsie June Adum, Godfrey Gillings Panam (Godfrey Panam), and many grandchildren.
Read Still: Bob Fitts Biography: A Songwriter and Gospel Musician
Panam Personal Faith in Christ Jesus
Dr. Panam Percy Paul has revealed how he was offered £24 million in order to dump gospel music in 1995 in the United Kingdom. He made this known when he appeared as a guest on a Dove Television station programme: "Fathers."
The gospel musician said the company came with a mouth-watering offer in order for him not to mention the name of Jesus in his music because he was the most influential Christian musician in the world at that time.
According to him, the company said: "We don't want you to be singing about Jesus.
"We have conducted our research we discovered that all of the gospel musicians in the world you are the most influential."
Paul explained that the Holy Spirit had warned him not to travel to the country ahead of that time, adding that immediately he declined the offer, God directed him to depart from the United Kingdom.
Paul said immediately he came back from the trip, his bank in Nigeria (Allied Bank) closed down and he was down financially but he kept his faith.
Paul's kind of music and worship style is praise in the feel of country music and African high life.
Read Likewise: Ryan Adams biography: A Singer, Songwriter, Record Producer, and Poet
Panam Percy Paul Discography
Beautiful People (1976)
Oh Ye Gates (1978)
Don`t You Cry (1980)
Bring Down the Glory 1 (1984)
Panam Percy Paul and Friends (1987)
Bring Down the Glory 2: God of War (1989)
At This Christmas with Panam Percy Paul (1991)
Bring Down The Glory 3: Higher Than High (1993)
Master of the Universe (1995)
Bring Down the Glory 4: Deep Intimacy (2003)
Cheer up (2007)
Destiny (2009)
Return
Bring Down Your Glory 5: Throne Of Grace (2013)
Read More:
lucy stone timeline: An Orator and Women Advocator
David John Mellor: British broadcaster, barrister, and former politician
Kari Lake net worth: Politician and Former Television News Journalist
Biography of Naomi Anderson: the Women's Rights Advocate