Vitali Klitschko Mayor – Is a Ukrainian politician and former professional boxer. He served as mayor of Kyiv and head of the Kyiv City State Administration since June 2014.
Klitschko is a former leader of the Petro Poroshenko Bloc and a former member of the Ukrainian Parliament.
He became actively involved in Ukrainian politics in 2005 and combined this with his professional boxing career until his retirement from the sport in 2013.
Klitschko Vitali, Early Life, Family, and Age
Klitschko was born on 19 July 1971, in Belovodskoe, Kyrgyzstan. His father, Wladimir Rodionovich Klitschko, was a Soviet Air Force major general and a Soviet military attaché in East Germany.
The elder Klitschko was also one of the commanders in charge of cleaning up the effects of the Chernobyl nuclear disaster in 1986.  And was afterward diagnosed with cancer. His mother is Nadezhda Ulyanovna.
Klitschko graduated from the Pereyaslav-Khmelnytsky Pedagogical Institute (Ukraine) and was accepted into the postgraduate study program at the Taras Shevchenko National University of Kyiv.
On 29 February 2000, he presented his doctoral thesis on "talent and sponsorship in sports" at the "Kyiv University of Physical Science and Sports" and his Ph.D. in Sports Science was conferred.
Read Also: David John Mellor: British broadcaster, barrister, and former politician
Where is Klitschko from?
He is from Semey, until 2007 known as Semipalatinsk and in 1917–1920 as Alash-Kala. Is a city in eastern Kazakhstan, in the Kazakh part of Siberia.
It lies along the Irtysh River near the border with Russia, 1,000 kilometers north of Almaty and 700 kilometers southeast of the Russian city of Omsk.
Klitschko Vitali, Work, Wife, and Children
Klitschko worked at Kyiv Automation Plant as a toolmaker as a young man. He has lived for years in Germany (in addition to residing in Kyiv). According to Klitschko "Germany adopted me, I really love Germany, but I'm not German".
Klitschko is married to Natalia Egorova, a former athlete, and model. They met in Kyiv and got married on 26 April 1996.
They have three children, Yegor-Daniel, Elizabeth-Victoria, and Max, named after the former world heavyweight champion Max Schmeling.
Read Still: Kari Lake net worth: Politician and Former Television News Journalist
Klitschko Vitali, Professional boxing
Klitschko began his professional boxing career in 1996, winning his first twenty-four fights by either early knockout or technical knockout.
He and Wladimir signed with the German athlete-promotion company Universum. With both brothers holding PhDs and being multilingual.
Their refined and articulate personalities made for mainstream marketability when they moved to Germany and Universum.
In time, they became national celebrities in their adopted home country. In his 25th pro fight on 26 June 1999.
Klitschko won the WBO heavyweight title from Herbie Hide of the United Kingdom by a second-round knockout.
He successfully defended the title twice. He defeated Ed Mahone by knockout in the third round and beat Obed Sullivan, who retired after the ninth round.
Klitschko Achievement in Wrestling
As a boxer, Klitschko won multiple world heavyweight championships. He held the WBO title from 1999 to 2000, the Ring magazine title from 2004 to 2005, and the WBC title twice between 2004 and 2013.
Overall, Vitali defeated 15 opponents in world heavyweight title fights and made 12 successful title defenses.
In 2011, Vitali and his younger brother Wladimir Klitschko entered the Guinness World Records as the pair of brothers with the most world heavyweight title fight wins (30 at the time; 40 as of 2020).
From 2006 until 2015, Vitali and Wladimir (also a multiple-time world champion) dominated heavyweight boxing, a period typically known as the "Klitschko Era" of the division.
Klitschko is the only heavyweight boxer to have reigned as world champion in three different decades.
Along with Oliver McCall and Nikolai Valuev, he is also one of two world heavyweight champions to have never been knocked down in any fight.
Klitschko and George Foreman are the only heavyweight boxers in history to defend a world title after turning 40.
Being the first professional boxing world champion to hold a Ph.D. degree, and in reference to his punching power, Klitschko's nickname was "Dr. Ironfist".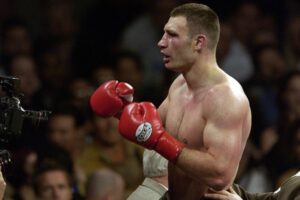 Retirement from Boxing
On 15 December 2013, Klitschko stepped back from boxing. He was announced champion emeritus, which means that if he wants to return to boxing. He can fight the WBC heavyweight champion without having any fights beforehand.
But right after his retirement from boxing, He stated "That is something I currently cannot imagine". The WBC title was vacated and later contested by Chris Arreola and Bermane Stiverne.
Commenting on his decision, he stated "My focus is on politics in Ukraine and I feel the people there need me".
He also added, "I thank the WBC and its president José Sulaimán for the support in our battle for democracy and freedom in Ukraine".
Since his retirement, he has maintained a low-key level of training and has been in his brother's corner for most fights. Most famously when he had an altercation with Anthony Joshua after Anthony Joshua vs. Wladimir Klitschko.
Read Likewise: Carmen Blackwell bio: An America's rising television newscaster 
Klitschko as a politicians
Klitschko formally began his political career in 2006 when he placed second in the Kyiv mayoral race.
In 2010, he founded the party Ukrainian Democratic Alliance for Reform (UDAR) and was elected into parliament for this party in 2012.
He was a leading figure in the 2013–2014 Euromaidan protests, and he announced his possible candidacy for the Ukrainian presidency. But later withdrew and endorsed Petro Poroshenko.
He was elected Mayor of Kyiv on 25 May 2014. Klitschko headed the election list of the winner of the 2014 Ukrainian parliamentary election, the Petro Poroshenko Bloc. But he gave up his parliamentary seat to stay on as Mayor of Kyiv.
On 28 August 2015, the UDAR party merged into Petro Poroshenko Bloc. He thus became the new party leader. Vitali Klitschko was re-elected as mayor on 15 November 2015.
Klitschko revived UDAR and left Petro Poroshenko Bloc with it. in May 2019 and simultaneously announced that UDAR would take part in the 2019 Ukrainian parliamentary election autonomously.
Read Aswell: Desiree Fluellen: An American journalist | News Anchor and Reporter
Vitali Klitschko as a Mayor of Kyiv
Klitschko confirmed on 28 February 2014 that he would take part in the (early) 2014 Ukrainian presidential election.
But on 29 March 2014 announced that he had changed his mind and would run for the post of Mayor of Kyiv in 2014. Kyiv local election (including Mayoral elections) set for 25 May 2014.
In the 2014 Ukrainian presidential election, Klitschko endorsed the candidacy of Petro Poroshenko.
Klitschko won Kyiv's mayoral elections with almost 57% of the votes. He was sworn in as mayor on 5 June 2014.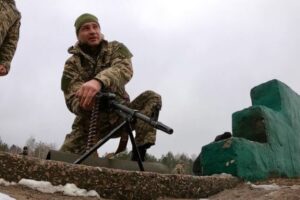 Vitali Klitschko Mayor Ready to defend Kyiv
On 24 February 2022, Klitschko, along with his brother, Wladimir, announced they would take up arms in defense of Kyiv in the 2022 Russian invasion of Ukraine.
Read More:
Panam Percy Paul biography: A Nigerian Gospel Singer
Kafayat Oluwatoyin Shafau: A Fitness Coach and Dance Instructor
Susan B Anthony bio: A Social Reformer and Women's Rights Activist
Simon Doonan age: A Creative Ambassador in New York
Lara Stone net worth: A Model and an Artist