John Harington Inventions – This article will focus on the invention of the great Sir John, the English courtier, author, and translator.
It will also talk a little about his biography and then answer various questions people ask about Sir John Harington.
John Harington was the name of the first man credited with inventing the first flushing toilet. He was born during the time in which Queen Elizabeth reigned.
His mother was a member of the queen's chamber. John was popularly known as the inventor of the flush toilet which has been of tremendous help to society.
Read Also: Garrett Morgan Net Worth: An African-American Inventor
Brief Biography of John Harington
The flush toilet inventor, Harington was born in Kelston, Somerset, England, the son of John Harington of Kelston. His birth date was the 4th of August 1561 in Kelston, United Kingdom
John Harington of Kelston is a poet, and his second wife Isabella Markham, a gentlewoman of Queen Elizabeth I's privy chamber. He was honored as a godson of the childless Elizabeth, one of 102.
John the inventor became prominent at Queen Elizabeth I's court, and was known as her "saucy Godson". However, his poetry and other writings caused him to fall in and out of favor with the Queen.
The description of a flush-toilet forerunner installed in his Kelston house appears in A New Discourse of a Stale Subject, Called the Metamorphosis of Ajax (1596). This is a political allegory and coded attack on the monarchy, which is nowadays his best-known work.
Before we consider the answers to the frequent question people askes about john, first let's look at his invention.
John Harington Inventions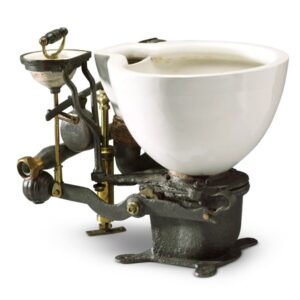 John is a great inventor who devised England's first flushing toilet called the Ajax (i.e., a "jakes", then a slang word for toilet.
It was first installed at his manor in Kelston. This forerunner to the modern flush toilet had a flush valve to let water out of the tank, and a wash-down design to empty the bowl.
The only deficiency was an S-bend or U-bend to curb noxious smells, which was later invented by Alexander Cumming.
Many toilet manufacturers have had the name John as part of the company's title. There is a dispute over whether the current American term "john" has any connection with Harington as its inventor.
Now we can consider the answers to the frequent questions asked about John Harington, the flushing toilet inventor.
Read as Well: Sir Michael Hopkins: An English Architect and Material Exploration Pioneer
What happened after John Harington's Invention?
In 1596, Harington, under the pseudonym Misacmos, wrote a book called A New Discourse upon a Stale Subject: The Metamorphosis of Ajax about his invention.
The book made political allusions to the Earl of Leicester, which angered Elizabeth. It was a coded attack on the excrement that was poisoning society.
This is with torture and state-sponsored "libels" against his relatives Thomas Markham and Ralph Sheldon.
After its publication, he was again banished from the court. Elizabeth's mixed feelings for him may have been the only thing that saved Harington from being tried at the Star Chamber.
Where did John Harington school?
The great inventor flush toilet was educated at Eton and King's College, Cambridge.
Harington married Mary Rogers,[2] daughter of George Rogers of Cannington (son of Sir Edward Rogers) and Jane Winter, on 6 September 1583.
John Harington wife
Mary Rogers is the daughter of Sir George and Lady Jane Rogers of Cannington in Somersetshire.
Read Still: Simon Doonan age: A Creative Ambassador in New York
Why is the toilet called the John?
The name "John" was later derived from "Jake" and "Jack." Secondly but most notable amongst historians.
John Harington was the name of the first man credited with inventing the first flushing toilet. He was born during the time in which Queen Elizabeth reigned. His mother was a member of the queen's chamber.
Why is the flush toilet important?
Thanks to modern technology, the toilet has allowed us to hygienically remove human waste with just one flush.
Doing so is very important as it limits the access you and your family have to nasty germs, diseases, and odors.
How many kids did John Harington have?
He and his wife had nine children that lived beyond infancy and two that died at birth. Seven of the nine children survived Harington's own death.
Why was the flush toilet invented?
This was invented due to deadly diseases, including cholera and typhoid, being spread because waste was not flushed away.
In the 1590s John Harington, godson to Queen Elizabeth I of England, invented a flushing toilet. The toilet let water out of a tank and down a pipe to clean the bowl.
John Harington Birth
His birth date was the 4th of August 1561 in Kelston, United Kingdom
Where was Sir John Harington born?
The great inventor John was born in Kelston, United Kingdom. Kelston is a small village and civil parish in Somerset.
It a 4 miles northwest of Bath, and 8 miles east of Bristol, on the A431 road. It is situated just north of the River Avon, close to the Kelston and Saltford locks. The parish has a population of 248.
Read-Along: David Rogerson Mellor: Designer, Manufacturer, and Craftsman
When was Sir John Harington born?
He was born on the 4th of August 1561 in Kelston, United Kingdom
Is Kit Harington related to Harington?
Yes. Harington's uncle was Sir Nicholas John Harington, 14th Baronet, and his patrilineal great-grandfather was Sir Richard Harington, 12th Baronet.
The Harringtons are an ancient family that once spelled their name Haverington and derived the name from their estate a lordship in Cumberland.
Through his father, Harington descends from Scottish politician Henry Dundas, 1st Viscount Melville.
When did John Harington invent the flushing toilet?
The invention was done in 1596. The first modern flushable toilet was described in 1596 by Sir John Harington the godson of Queen Elizabeth I.
Harington's device called for a 2-foot-deep oval bowl waterproofed with pitch, resin, and wax and fed by water from an upstairs cistern.
What language did John Harington speak?
Sir John Harington, speaks English, an Elizabethan courtier, translator, author, and wit who also invented the flush toilet.
Check: Jonathan Adler bio: An American potter, interior decorator, and author
What did John Harington invent?
Flush toilet. A flush toilet is a toilet that disposes of human waste by using the force of water to flush it through a drainpipe to another location for treatment, either nearby or at a communal facility, thus maintaining a separation between humans and their waste.
John Harington cause of death
how did john Harington die
The inventor dies after an illness
where was sir John Harington born
Kelston, United Kingdom
sir john Harington family tree
READ MORE