Kirk Dearman – A pioneer in the Christian music industry, and best known for penning the song known the world over.
Kirk is a very hard-working individual. He is one amazing artist that has been on the front of the wave of many artists' things.
Kirk Dearman is a real forerunner, willing to go ahead, no matter what the cost. He is also a great pioneer. His skills are what any company or ministry would want.
Check Also: kirk franklin age: Net Worth, Wife, and Daughter 
Kirk Dearman Early Life, Career, Age and Birth 
Kirk is a pioneer in worship and the arts whose songs have been recorded and sung around the world.
Dearman was drawn to the piano at the age of five. His mom had the wisdom to find a teacher and lessons.
For eight years he studied classical music and developed his 'sensitive' touch on the piano. Prior to this, he was recognized as having an exceptional gift at the piano.
As a teen, he moved on to play pop music, had his first song published at 18, and toured the world with the Continental Singers.
His age has not been declared publicly, research is still going on, it will be disclosed when ready.
Read Still: Bob Fitts Biography: A Songwriter and Gospel Musician
Kirk Dearman Marital Life
Kirk married his teenage sweetheart, Deby. They both moved to Azuza, California, where he became the lead singer for the band, Sound Foundation, based at Azuza Pacific University.
Shortly after their wedding, they wrote their first song together, "Hallelujah Maranatha." This song traveled around the world and was sung in large gatherings during the Jesus Movement.
This gave birth to their calling to be singer/songwriters and recording artists. Deby was modeling in the fashion industry in Dallas, Texas, while Kirk served as a session singer and keyboard player.
He also served as a worship leader in the Dallas area and was known for his radio program "Communion With God," where many discovered his gift of leading worship.
Kirk is perhaps best known for his song, "We Bring the Sacrifice of Praise." The song was Number One with Christian Copyright Licensing for five years. And stayed in the Top Ten for ten years and is now a worship classic, sung in churches worldwide. Many of his songs are included in church hymnals.
Read Also: Panam Percy Paul biography: A Nigerian Gospel Singer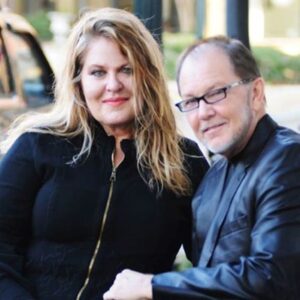 Read as well: Paul Baloche net worth: An American gospel music Artist
Kirk Dearman Movement with Deby
In 1991 Kirk and Deby resettled in Nashville, TN, where they were signed as worship writers with Star Song Records, after recording their first worship project in England.
They continued to write and have their songs published and recorded by Maranatha! Music, Integrity Music, Word Records, and many others.
After returning to their hometown of Dallas, TX, Kirk and Deby became involved in the music at their church.
He was soon hired as the youth choir director, where he built a strong 150-voice choir that sang black gospel, toured, and recorded. At the same time, he was working as a singer and pianist.
Kirk Dearman and Pst. W.F Kumuyi
Kirk Dearman the great pioneer and Gospel artist will be ministering in the Deeper Christian Life Ministery Global Crusade. Tiled; "Full Redemption for All Through Christ". This will take place from 25 to 30th March 2022. Pst. Dr. W.F Kumuyi with Kirk Dearman. Live @ Bayelsa, Nigeria. 
Read More: